Immunity Beverages
Berry Superfood Boost
A delicious combination of ruby red cranberries, and over 1400 dark purple elderberries, in every bottle of our Superfood Immunity Boost! This flavorful beverage is an excellent source of Vitamin C, Vitamin D, Vitamin E and Zinc! Contains 350mg of Echinacea in each bottle, which may help support a healthy immune system.
3 ¾ servings of fruit
per bottle*
NON GMO
Vegan
No Sugar Added
No Artificial Preservatives
No Artificial Colors
No Artificial Flavors
No Dairy
*one serving equals 1/2 cup of juice. Daily recommendation: 4 servings of a variety of fruit including whole fruits, for a 2000 calorie diet (MyPlate)
Ingredients
Elderberry Juice from Concentrate (Water, Elderberry Juice Concentrate), Cranberry Juice from Concentrate (Water, Cranberry Juice Concentrate), Apple Juice from Concentrate (Water, Apple Juice Concentrate), Pear Juice from Concentrate (Water, Pear Juice Concentrate), White Grape Juice Concentrate (Water, White Grape Juice Concentrate), Water, Contains 2% or Less: Natural Flavors, Echinacea Powder, Ascorbic Acid (Vitamin C), Zinc Amino Acid Chelate, Vitamin E (D-Alpha Tocopheryl Acetate), Vitamin D2 (Ergocalciferol)
---
TRANSPARENCY
We've promised to use fewer ingredients that people don't want. And more of the ones they do. The ingredients used in Superfood Immunity Boost are not from genetically modified crops.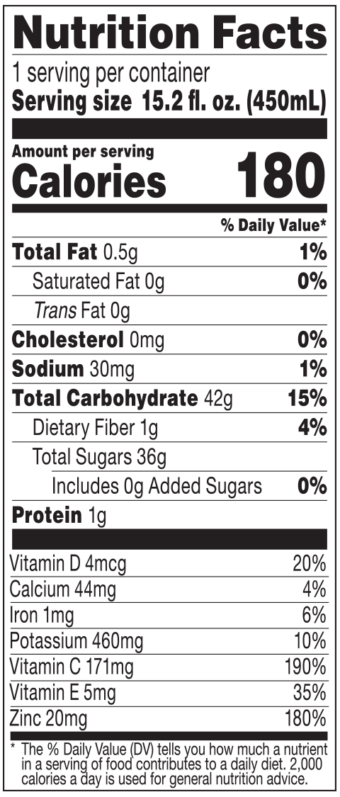 Similar Products